Parent Support and Advice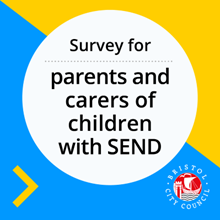 Bristol City Council is asking children and young people with Special Educational Needs and Disability (SEND) and their parents and carers to share your views about the services in Bristol. Your feedback will help us to improve SEND services.
All those taking part will have the opportunity to be entered into a draw to win one of two £10 'Love to Shop' vouchers that can be spent online or in store at more than 20,000 shops, restaurants and attractions.
The surveys have been co-designed with Bristol's Parent Carer Forum and the Supportive Parents service.
Each survey takes about 15 minutes to complete.
The survey will be live for 7 weeks (18 January – 5 March)
The results will be published on Bristol's SEND Local Offer website in the summer term. Visit the website for more information: www.bristol.gov.uk/localoffer
Worried about your children's mental health? Click the button below