Year Four Classes
2019-2020 Highlights
Term 1
Maths
In Maths, we have learnt about Place Value. We have learnt that place value is very important as it helps us solve a range of calculations. We used counters, dice and number lines to explore the value of numbers up to 4 digits.
English
In term 1, we read 'Journey' by Aaron Becker. To engage us in our book we were given different objects relating to the story and had to create our own story around that object. We created stories about: a crayon that transports you through time, a hot air balloon that take you to the moon, a boat to save you from sharks and a lantern to guide you in a crystal cave. After reading 'Journey' we wrote stories about Lucy (then main character in the book) and the adventures she had with her magical pen. We then created a landscape setting for our own tale of journey inspired by 'Journey' and wrote a sequel for 'Journey'.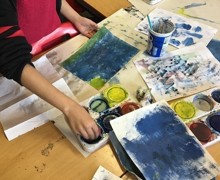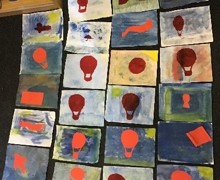 Enquiry
For our first Enquiry topic we were investigating the question: 'What's the difference between sound and music?' During this Enquiry, we were being musicians and scientists. To engage us in our Enquiry and provide us with an opportunity to be musicians we had a STOMP work shop every week where we created music using: house hold objects, words, beat boxing and body percussion. We also carried out a range of experiments to help us answer our question. Through the experiments, we learnt that sound is created when vibrations travel through the air - these vibrations are called sound waves. To investigate the pitch of a sound, we used boom whackers. Each boom whacker made a different sound depending on the size of the tube. The large boom whackers made a low pitch sound and the small boom whackers made a high pitch sound. This is because the vibrations of the small boom whacker are much faster. For our challenge, we designed and created panpipes out of straws. On our panpipes, we demonstrated the difference between music and sound. Sound is a noise that you can hear whereas music is when the sound has a rhythm or tune to it.